Monday Morning Bible Study: Bible Study is beginning a 13 week study of the book of Acts utilizing Three Months With the Spirit by Justo Gonzalez starting Feb. 29th.   Meets at Our Saviour's UCC, W172 N12533 Division Rd., Germantown, WI, on Monday's, from 10-11:30am. PLEASE NOTE: No class on March 28th. Books can be obtained from Pastor Tara…..Cost is $10.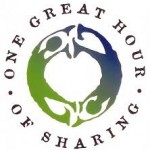 ONE GREAT HOUR OF SHARING (OGHS) – MARCH 6TH
Scripture Reference Ruth 1:16 "Where you go I will go; and where you stay I will stay."Theme:  Going The Extra Mile [in support of refugees and displaced persons]
Our world is presently facing the largest refugee crisis since World War II. According to the United Nations, one in every 122 people in the world is forcibly displaced from their home and is seeking refuge. While such statistics might be beyond our comprehension, the people living these unimaginable sufferings are not beyond our collective hearts of compassion. On the first Sunday of March we have the opportunity to make a real, tangible difference for millions of people all over the world.
One Great Hour of Sharing, as part of Our Churches Wider Mission, is the special mission offering of the United Church of Christ that carries God's message of love and hope to people in 138 countries.  The UCC works with international partners to provide sources of clean water and food, education and health care, small business micro-credit, emergency relief, and advocacy and resettlement for refugees and displaced persons.  OGHS also supports domestic and international ministries for disaster preparedness and response.  More than 60 percent of the UCC's offering supports international development initiatives, including annual support for missionaries. A flyer with more information and a special offering envelope are included in this newsletter (additional envelopes available in the church lobby).